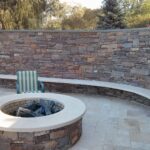 Outdoor Firepits
If you love the outdoors, you would probably want to find a way to enjoy your stone patio or garden even on a cold night. An outdoor fire pit can make this not only possible, but actually a truly romantic experience. So, whether you are entertaining or star-gazing, you will be able to feel the warmth of an open fire wafting out of your own backyard fire pit. If you already have an outdoor kitchen, an outdoor fire pit is the perfect complement to round out that barbecue or party under the open sky.
At Gothicstone we have skilled experts who will design and build an aesthetically appealing natural stone outdoor fire pit for you. We will, of course, only apply our expertise once we know your tastes, and understand just what you want. Alternatives such as fieldstone, limestone, marble and travertine are available to choose from. If you are not comfortable with the idea of a built-in outdoor fire pit, we also have pre-fabricated options that can be transported and placed wherever you find it most convenient.
If you feel you are ready to take the plunge or even if you need more information before you decide, please contact us. Our representative will be glad to assist you with your dream of a natural stone outdoor fire pit, and we truly hope that we get the opportunity to make that dream a reality!