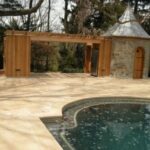 Concrete Pavers vs Natural Stone Pavers……You Decide!
10 Reasons why you may want to select Natural Stone Pavers.
#1 REAL natural stone is actually less expensive than faux-stone concrete look-alikes….and has a much better look and enduring life span.
#2 ASTM* Tested – twice the strength of concrete.
#3 Stays Cool Underfoot unlike man-made products or slate.
#4 Great for all exterior (pools, patios, driveways) and interior spaces (kitchens, bathrooms, counter tops, basements).   Copings, treads, wall caps all readily available in various thicknesses.
#5  ASTM* Tested – high co-efficient of friction for a non-slip surface.
#6 No Maintenance – no need to seal or coat (especially, if dry-set pavers).
#7  ASTM Tested for freeze/thaw compatibility in northern climates.
#8 Retains its natural beauty forever! (they are over 50 million years old).
#9 Does not scuff or degrade like patterned concrete or stamped asphalt surfaces (asphalt and concrete get very hot).
#10 Fashion forward look with timeless beauty.