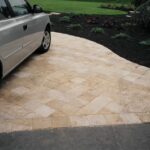 Considerations for specifying natural stone in residential/commercial vehicle applications.
Natural stone for residential or commercial vehicle specification
One of our prospective clients asked us about the ability to use natural stone pavers ie: travertine, limestone, sandstone or marble for re-designing a commercial and pedestrian plaza area where commercial trucks and cars will be driving on the plaza. They also wanted to know if we could produce the pavers in 2 ¼" thickness, as well.
The plaza carries both commercial vehicles and cars. Along the plaza are pedestrian walkways.
Yes, we can produce pavers at 2 1/4″ thick as well as 3″ or any thickness desired.
As far as the concern re: the ability to handle truck traffic, the larger issue is the surface dimension of the pavers (ie: not necessarily the thickness of the pavers) as a fulcrum point or large void underneath the center of any paver can easily result in failure. Consequently, a 4″x4″ paver would be highly unlikely to ever snap or fail, whereas, a large format paver has a larger propensity to fail if not properly installed (whether it be dry-set or wet-set). That being said, SEAHAZEtm SEA sandstone pavers are extremely durable, when installed correctly, can withstand any vehicular traffic that they need to endure.
Considerations:
What size(s) are you considering?
a) Format/patterns, surface treatment ie: bush hammer, honed, tumbled?
b) Would it be the same for both walkways and vehicular traffic?
c) Is there any purpose for 2 ¼" other than a common standard?
d)    Are there curbs, step treads, decorative pieces or any other architectural considerations that would be required
2. What installation method do you prefer to utilize?
a) Vehicular traffic areas
b) Pedestrian areas
c)      Will you be using any soil stabilization "grids" underneath the installation?  We highly recommend using stabilization "grids" for any paver installation to ensure longevity. Read our blog on the subject.
3. What is the proposed quantity desired for the project?
a) By Vehicular traffic (indicate thickness)
b)      Walkways (indicate thickness – no need to use 2 ¼" for pedestrian traffic)
4. What color scheme are you looking for?  
a) Warm or cooler tones?
b)      Is there flexibility in the design pertaining to color?
5. What is the desired delivery date?
6. What is your budget for the material per square foot?
In an effort to assist with value engineering of your project from our end, we would like to have the above information before proceeding ahead.