Considerations for Specifying Natural Stone in Driveway Paving Applications.
Natural stone driveways are beautiful, durable, strong and will survive the test of time!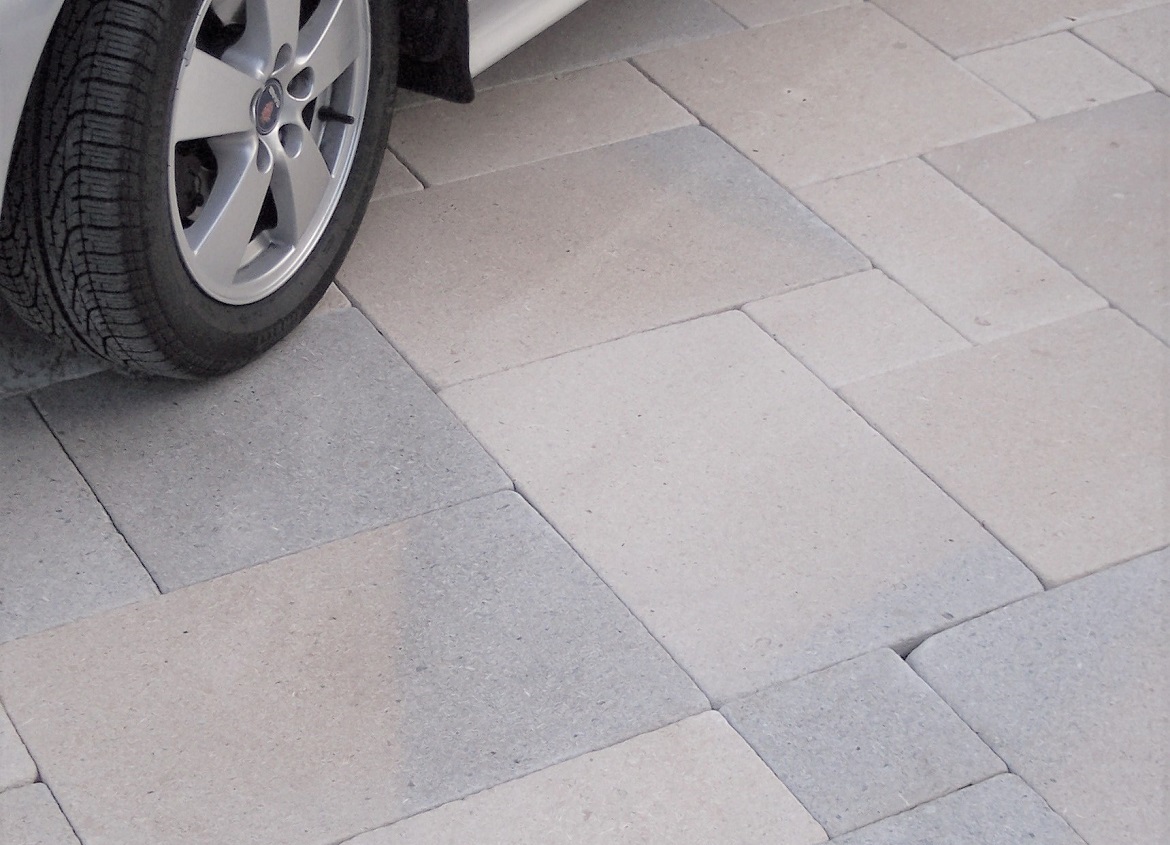 One of our prospective clients asked us about the ability to use natural stone driveway paving ie: travertine, limestone, sandstone, or marble for re-designing a commercial and pedestrian plaza area.
Project situation
There will be commercial trucks and cars driving on the plaza. 
The driveway pavers need to be 2 ¼" thickness.
Along the plaza are pedestrian walkways for people to stroll and walk througout the plaza.
Response for project considerations
Gothicstone can produce pavers at 2 1/4″ thick, 3″, 4″, 5″, 6″ or any thickness desired.  
Secondly, the concern of the ability to handle truck traffic on natural stone driveway paving projects is not necessarily the thickness of the pavers. The issue is the surface dimension of the driveway pavers. The larger surface area makes the paver more likely to be negatively impacted by a large void (or conversely a fulcrum point) below it. Of course these pitfalls can be avoided with appropriate attention to proper installation methods, techniques, and technologies.
Consequently, a smaller format paver (as in 3″x3″ or 4″X4″ surface) would be highly unlikely to ever crack or fail.
That being said, SEAHAZEtm SEA limestone pavers are extremely durable, when installed correctly, can withstand any vehicular traffic that they need to endure. 
Below are questions for consideration before specifying driveway paving natural stone for your project.
1. What driveway paver size(s) are you considering?
A shift to large format natural stone for both residential and commercial driveway systems is gaining popularity.  Natural stone in all formats–traditional (small 4"x4", 6"x6" cubes or random length) or the larger formats (which are gaining traction with architects and designers–with its aesthetic and structural benefits), makes it a strong alternative to concrete pavers. 
2. What color scheme are you considering?  
Warm or cooler tones?
Is there flexibility in the design pertaining to color?
3. What format or patterns are you considering for the design of the driveway pavers?
4. What surface treatment or finish are you considering ie: bush hammer, sandblasted, honed, tumbled? https://www.gothicstone.com/materials/surface-finishes/
5. Would the surface finish be the same for both walkways and vehicular traffic?
6. What thickness are you considering for the driveway pavers?
7. What other architectural considerations do you require?
Curbs
Step treads
Other decorative pieces?
8. What installation method do you prefer to utilize for each of the areas?
9. What is the proposed quantity for the project?
Vehicular traffic areas (indicate thickness)
Walkway areas (indicate thickness – no need to use 2 ¼" for pedestrian traffic)
10. What is the desired delivery date for the project materials?
11. What is your budget for the natural stone materials per square foot?
Are you looking for different exterior stone options? Gothicstone is here to help.  Contact us  today to find out more about our products so we can value-engineer your stone solution. We look forward to providing you with natural stone materials to help make your client's outdoor spaces unique.
Gothicstone Consulting Services
We have recommended over the years Cell-Tek Geosynthetics, LLC stabilization grid systems.