Driveway stone pavers add incremental lifetime value to residential and commercial properties–before you even enter the building. First, using driveway stone pavers improves the sale price of the property. Second, owners or property tenants can enjoy this upgrade for years. The obvious value of its "curb appeal" is priceless at the first impression, initial sale, and any sale thereafter. That curb appeal sets the expectation for a special property as prospective buyers arrive to tour the property. Residents and commercial owners appreciate a natural stone driveway feature every single day, whenever they use the drive or look out their windows. And, remarkably, driveway stone pavers prove to pay for themselves when it comes time to re-sell the property.
The days of limiting driveway systems to "blacktop" (macadam) or concrete are in the rearview mirror!  Driveway stone pavers complement many architectural styles. But, even more, driveway stone pavers provide the necessary compressive and flexural strength. With natural stone, the driveway systems can be uniquely attractive as well as functional. You no longer need to choose form over function (or vice versa) when you can have both!
Right now, we're seeing a shift to natural stone for both residential and commercial driveway systems. It's time to replace the dated and oft-stained concrete surface. Natural stone comes in all formats—traditional, small 4" x 4" and 6" x 6" cubes to larger sizes. The pavers continue gaining traction with architects and builders focused on their aesthetic and structural benefits. These driveway stone pavers provide a desirable and broad alternative to standard and dated concrete pavers.
Let's explore the technical factors architects and builders should consider when selecting natural stone for driveway applications.
Driveway Stone Pavers Deliver Strength, Durability, and Visual Impact
Several stressors negatively impact all driveway systems. The combination of these three major durability stressors influences the lifespan of the driveway installations:
The vehicle 'load stress' on a driveway system (flexural strength)
Environmental factors such as freezing and thawing
Driveway installation methodologies and technologies
Now, with driveway stone pavers, architects and builders can work around these concerns. Start by selecting the appropriate stone with these stressor considerations in mind. Then choose the aesthetic for your natural stone application.
Road builders have selected porphyry and granite cubes as the typical natural stone materials used to endure vehicle traffic for thousands of years. The common cube size of 4"x4"x4" provides the necessary strength and the flexibility to create many designs and patterns. Larger formats produce even different visuals. But the size of the stone dictates the installation methodology. See our blog, DRIVEWAY INSTALLATION: BEST PRODUCTS (AND TECHNOLOGIES) FOR LIFETIME VALUE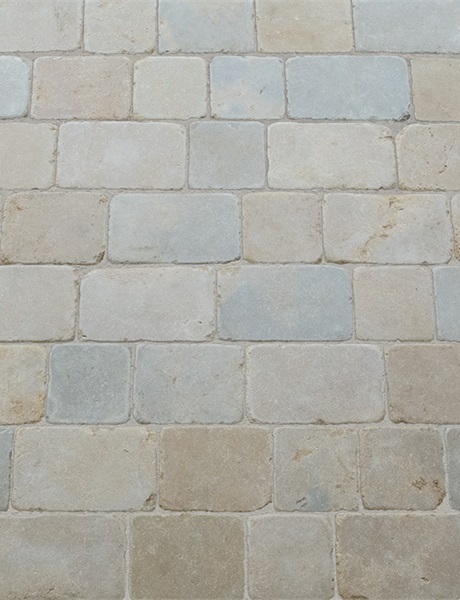 Start with Flexural Strength
The compressive strength of most stones more than satisfies this application, so flexural strength becomes the core consideration. The thickness of the stone increases the flexural strength, while compressive strength remains static.
If the stone surface exceeds 6 inches in any one direction, then a strong (high 'flexural strength') material is optimal, particularly when considering a 'dry set' application. Avoid stones prone to having natural fissures or clefting, in some instances. For example, most types of marble and travertine are extremely durable and very appropriate for this type of application. Yet, seismic activity negatively impacted some individual quarries thousands or even millions of years ago, resulting in fissures in the stone. This may cause premature failure later. Be sure to purchase your stone from a reputable supplier with a history of working directly with the source quarries.
Regarding 'compressive strength' (an important consideration for both 'dry set' and 'wet set' applications), most stones on the market are at a minimum of 2,500–3,000 psi 'compressive strength', so it's typically not much of a concern. Check with the distributor of the stone to be sure you choose an appropriate material for your specific application and environmental conditions.
Work with the Environment
When selecting driveway stone, it's important to consider these environmental factors.
Local temperatures & seasonality – extreme cold and/or heat plus heavy rains and flooding should influence your choices. For example, some stones are not considered frost-proof, such as coral stone and other exceptionally soft stones.
The propensity for staining (foliage, oil deposits, and tire track staining) – some stones may be too porous or light in color for driveways. However, with the proper impregnating sealer, this problem can be mitigated.
Co-efficient of friction – Always select a non-slip finish for the surface treatment/surface finish. We recommend bush hammer/chisel face surface finish as best overall for driveways. See all our surface finishes and select the best option for your application.
Identify the Driveway Installation Methodologies & Technologies
Environmental considerations such as code limitations regarding pervious/impervious surfaces (crucial consideration), slope/drainage and soil type, and flexural strength/size of stone dictate driveway stone installation methods.
Typically, you have two basic choices for natural stone driveway installations, either 'dry set' or wet set. Gothicstone recommends that a Cellular Confinement System (CCS) be utilized in the installation of the subbase for optimum longevity and lifetime value. When considering methods of installation, there are aesthetic differences between 'wet set' and 'dry set'; most notably, the need for expansion joints when installing on a concrete slab. Expansion joints can detract from the natural beauty of the driveway stone.
The critical distinction between the two common methods:
'Wet set' dictates the pavers being cemented to a concrete base.
'Dry set' allows the pavers to 'float' on top of a compacted aggregate base.
Dry-Set Installation
Dry-set avoids the failure/cracking attributed to freeze-thaw heaving in cold climates, and expansion and contraction in hot or cold climates and combinations thereof. An environmentally sustainable alternative, this installation allows water to pass through it or "percolate." This has become a hot-button issue for most municipalities and zoning regulators regarding water runoff.
While we recommend CCS systems for all patios, driveways, pool decks, or any installation that utilizes gravel in the subbase, driveway projects particularly benefit from CCS because of the uneven distribution of vehicle tire track load.
For more information on dry-set installation, see our blog, DRIVEWAY INSTALLATION: BEST PRODUCTS (AND TECHNOLOGIES) FOR LIFETIME VALUE.
Wet-Set Installation
Wet-set installation is an option, but not the best option in climates with heavy freeze-thaw cycling. Often, failure, in the form of cracking, can occur in the concrete base. Invariable these cracks transfer through to the surface material causing an unsightly appearance resulting in costly repairs. Conversely, cracks in the slab can be mitigated by the implementation of appropriate separation membranes such as Schluter®-DITRA & DITRA-XL. So, if you're in a freeze-dry environment, skip the 'wet set' method, and look at the 'dry set' (floating paver system).
To learn more about these driveway system installation methods and advantages, see our blog, DRIVEWAY INSTALLATION: BEST PRODUCTS (AND TECHNOLOGIES) FOR LIFETIME VALUE.
Other resources that may be helpful in your planning: