Everyone Loves Bluestone
But not all are created equal!
Gothicstone SEAHAZE SEAtm is a Bluestone quarried in the Atlas Mountains of northern Morocco. Several other countries quarry Bluestone, like Belgium, Germany, France, Vietnam, China, and the USA. By comparison, the notable difference between PA/NY Bluestone and SEAHAZE SEAtm is that SEAHAZE SEAtm Bluestone is characterized as a limestone whereas the PA/NY Bluestone is characterized as a sandstone. And, typically, limestones stay cooler than sandstones.
8 Reasons to choose Gothicstone SEAHAZE SEAtm Limestone for your bluestone pavers.
The Technical Differences
Limestones typically stay cooler than sandstones. Therefore, an additional benefit to using SEAHAZE SEAtm Bluestone over the PA/NY option for copings, pool decks, or any outdoor hardscape areas.
PA and NY Bluestones are quarried from sandstone deposits. And commonly suffer from chipping, delamination, and flaking due to the way the deposit is formed in striated sedimentary layers. The striations (layers) do not commonly occur in limestone deposits. For this reason, the SEAHAZE SEAtm limestone is easier to work with and will retain its natural beauty without the delamination issues that can be quite common with the PA and NY Bluestones.
Due to many of the advantageous technical characteristics of limestone plus a more exacting manufacturing process, SEAHAZE SEAtm Limestone is often less expensive to implement compared to Bluestone originating from PA and NY.
These Limestone pavers are greater than 5,000 PSI compressive strength. They can be used in most industrial applications.
The Aesthetic Differences
We produce extra-large format pavers which are available according to your specifications. Example sizes are 18×36, 30×30, 24×48, 48×48, and varying thicknesses according to your project needs (2cm/3cm/4cm/5cm/6cm/7cm, etc.). We work with you to determine the best thickness and surface finishes for the best technical and aesthetic balance in your hardscape design.
These limestone pavers cut beautifully and are processed with more precision and accuracy than the typical PA and NY Bluestone processing plants can produce. The resulting aesthetic is the ability to "butt install" the pavers or tile without extra-large grout joints.
All SEAHAZE SEAtm products are available for your patio, pool deck, driveway, interior stone flooring, and general building projects are pavers, slabs for countertops and wall caps, step treads, block treads, coping, cladding, tile and driveway pavers or cobblestones.
Finishes varieties: Suregrip Moleskintm – a mechanically sandblasted surface; Etruscan Finishtm – bush hammered with a mechanically sandblasted secondary finish applied; Tumbled; Honed; Bush Hammer – mimics the ancient art of point chiseling/texturing the surface of the stone. A great combination of textural visual aesthetic and tactile interest without being too aggressive, and yet it significantly raises the coefficient of friction (for those who have that concern); Micro Bush Hammer – a finer more delicate version of the above.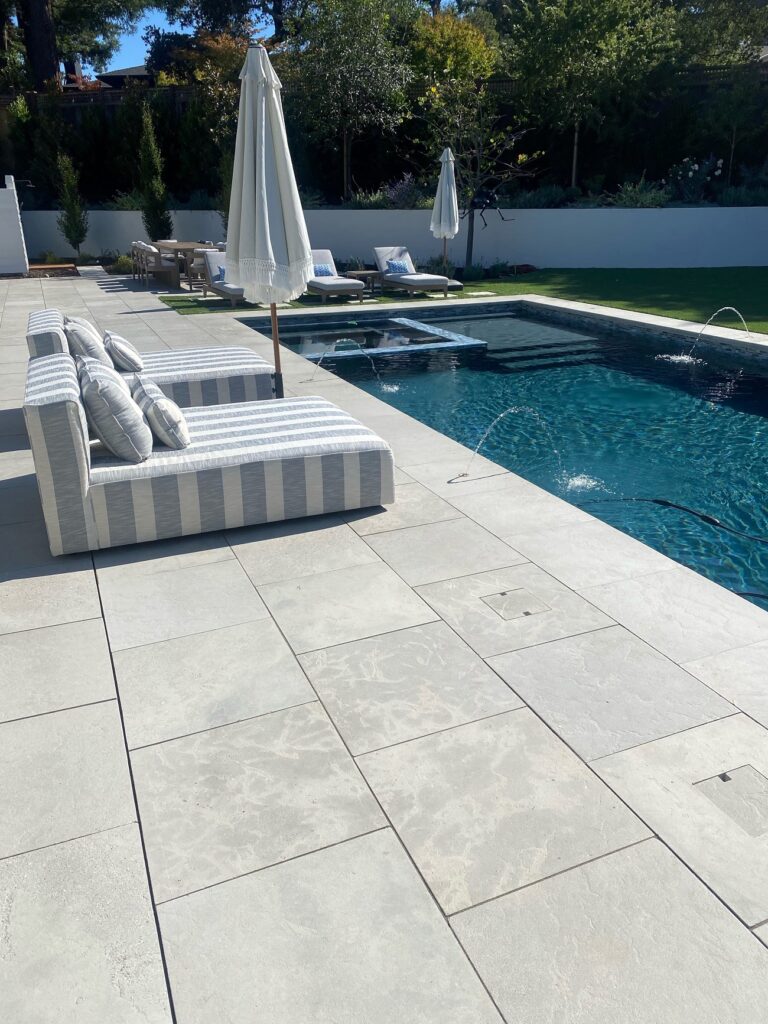 Contact us for your free project value engineering consult.
Blogs that may be of interest: